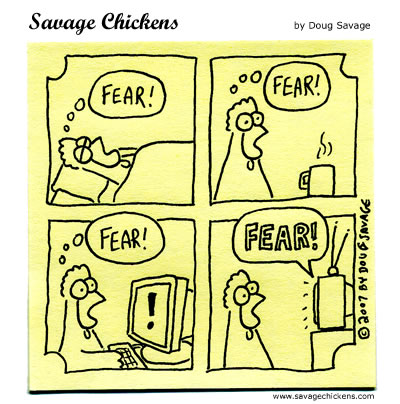 God clearly intends for us to not be afraid. In fact, variations on the phrase "do not be afraid" appear over a hundred times in our bible! Time and time again, God reminds us of the fact that we don't have to be scared. This is truly a countercultural kind of commandment for our faith.
I was reminded of a book on our struggles with fear by Adam Hamilton, a Methodist pastor and prolific author. He once wrote a study on living an unafraid life and came up with a clever "FEAR" acronym to help summarize his overall point:
Face your fears with faith… Examine your assumptions in light of the facts… Attack your anxieties with action… and finally, Release your cares to God.
Let's take a look at these phrases and how they can equip us to handle worldly fear…
Face your fears with faith
2 Timothy 1:7 reminds us this timeless truth: "For God has not given us a spirit of fear, but of power and of love and of a sound mind." We often assume that doubt is the opposite of faith, but it could be argued that fear itself is the main culprit! Through the act of faith, we surrender control to God, trust in divine guidance, and let go of our worry. There's no better way to initially confront your fears than with a heart of faith.
Examine your assumptions in light of the facts
Fear is often a very irrational sort of emotion. I mentioned yesterday how we tend to get worked up over "what-if" scenarios and fret over the future. Truth be told, our fears really don't seem all too bad when considering real-life facts. For instance, we arguably live in the safest period of human history. War, epidemics, and violent crime have all declined over the past several centuries and/or decades. This reality is difficult for us to mentally consider when we are worked up over fearful emotions, but it is backed up by extensive data. In this regard, Jeremiah 17:9 really speaks to our modern struggles with this problem: "The heart is deceitful above all things and beyond cure. Who can understand it?" Our inner thoughts and emotions are often deceiving, especially when faced with fears.
Take a moment and consider the facts of the situation. Perhaps you are being too hard on yourself. Maybe you're letting your emotions get the best of you. Even during moments of crisis, it is worth remembering that tomorrow will almost certainly come.
Attack your anxieties with action
Ask yourself this simple question, what am I going to do to deal with this particular fear? It is easy to feel sorry for yourself or hopeless instead of taking concrete action. It truly makes a difference to take tangible steps in order to address our fears. Instead of allowing that fear to rule you, action allows us to seize control of the situation. I'm reminded of one of the most well-known Proverbs (3:5-6):
Trust in the Lord with all your heart and lean not on your own understanding; in all your ways submit to him, and he will make your paths straight.
In other words, don't sit idly by throughout life's troubles. Actively attack those anxieties by leaning on God and taking action such as prayer, meditation, or talking with a brother or sister in Christ.
Release your cares to God
Psalm 55:22 tells us: "Cast your cares on the Lord and he will sustain you; he will never let the righteous be shaken." When it comes to fear, we often take hold of every single thought, emotion, worry, and care. In releasing everything to God, we let go of all that may burden us. Being scared might weigh you down, but God always wants to bear those burdens for us.